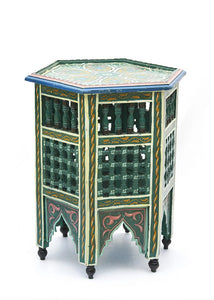 Moroccan Hand Painted Tea Table
These beautiful and intricate side tables are made in Marrakech. Our stock always changes, but what is common to all the tables is their colourful painting and their detailed wood work.
These tables are too bulky to ship and need to be picked up at the warehouse.

Dimensions-21″ tall x 16″ wide
This is one of our bulky or fragile items that we are not able to ship. You are welcome to pick this item up at the warehouse or we offer a $25.00 delivery option in and around Toronto for purchases over $75.00. If picking up please call first to make sure someone is at the warehouse to greet you- 416 436 7143.
---