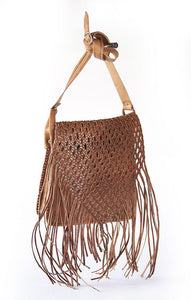 Moroccan Leather Bag with Hand Knotted Flap
This shoulder bag is hand made in Morocco from genuine leather.
It's flap is a work of art- all hand knotted from long, long strips of leather. Under the flap are two pockets- one zippered- in addition to the main compartment.
We continually have a deep selection of styles and sizes of Moroccan shoulder Bags.
Do not hesitate to contact us for more information.
Dimensions.10″ tall x 10″ wide x 2.5″ deep
Strap length-55″
---